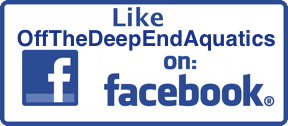 Space is limited Sessions are filling up FAST!
We Offer:
A Great Student to Instructor Ratio
of 4 to 1 or Private Lessons!
*
Six, 35-minute swim lessons classes taught by certified professionals.
*
We focus on Safety First, yet an Enjoyable, Fun Time.
*
And we are
Swim Lessons for Ages 1 to 101!
Provided by Off The Deep End Aquatics and held at

Texas Health Harris Methodist Hospital Hurst-Euless-Bedford The Physical Medicine and Rehabilitation Center


Swim lessons for Children ages 1 to 2 are with Parent or Guardian in the water:
These young ones are introduced to the water in a way most comforting to them. Parents and children participate together in classes designed especially for small children.

Swim Lessons for Preschoolers
introduce them to the fun of exploring the water through face submersion, bubble blowing, bobbing, supported floats on front and back, kicking and basic arm action.

Swim Lessons for Grade School Children, Teens and adults:
Intermediate skills are enhanced through primary skills and stroke readiness.

Sessions are Two 35 minutes Swim Lesson Classes/Week for Three weeks,
on Tuesdays and Thursdays.

For more information on Swim Lessons or any Water Aerobics, Aquatic Exercise Class, call Off The Deep End Aquatics at

(682) 200-7865

or Fill out the Online Contact Form Here!

Copyright © 2016 Off The Deep End Aquatics, Inc.